Stallion
DORAN SBFAR (Domane x Ortie by Djouran)
Our herd sire is the internationally known French stallion Doran SBFAR. He has size, an outstanding disposition, and was the 2002 undefeated multi-stakes winner in the United States. He has sired many stakes winners competing in the United States, Europe, and the Middle East.He has good bone (9" cannons), and hooves (size 2-3). He is the full brother to Oration the most winning and decorated Arabian stallion in the US for Sporthorse and performance. Doran was the 2002 US unbeaten stakes winner. He is fast and has incredible movement. His son IT'S FAR FROM OVER won the Season Finale Championship Stakes in UAE March 2015. His son Doruud aka Trinity is the 2016 National Best Condition Champion for endurance in the US. He has won and or gotten the Best Condition Award in over half of all his starts to date.
International and domestic frozen semen is available. Stud fee is $2,000.00. Live foal guarantee.
Doran's Equibase Speed Index is 123!
DORAN SBFAR is moving to UAE to his new home. We have been very fortunate to have had him. We have many upcoming offspring besides the weanlings and a couple of available yearlings. He is truly an international sire!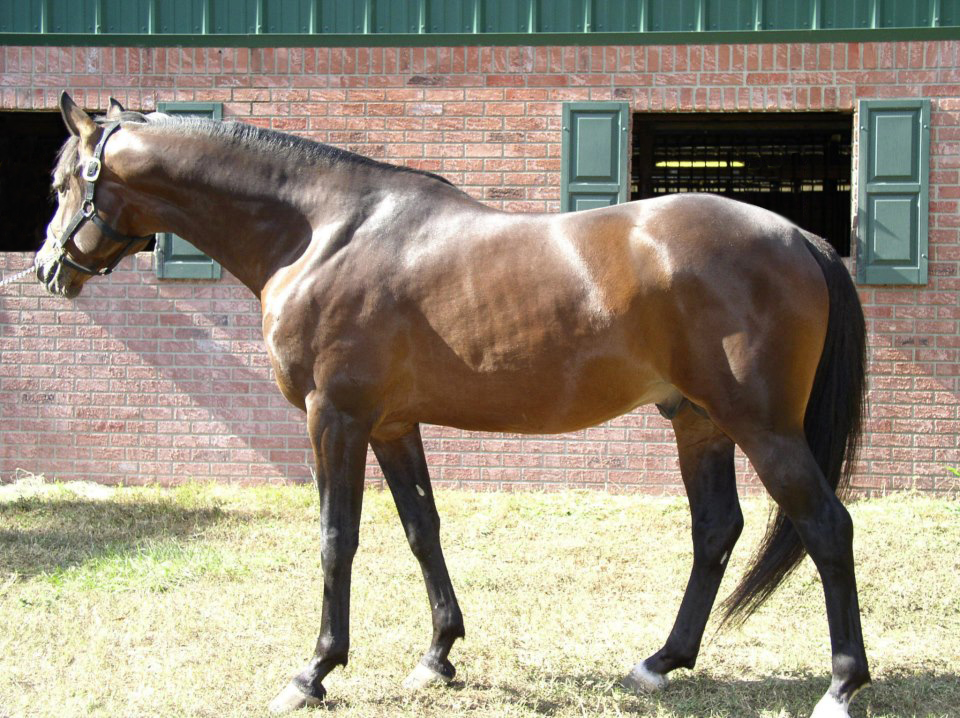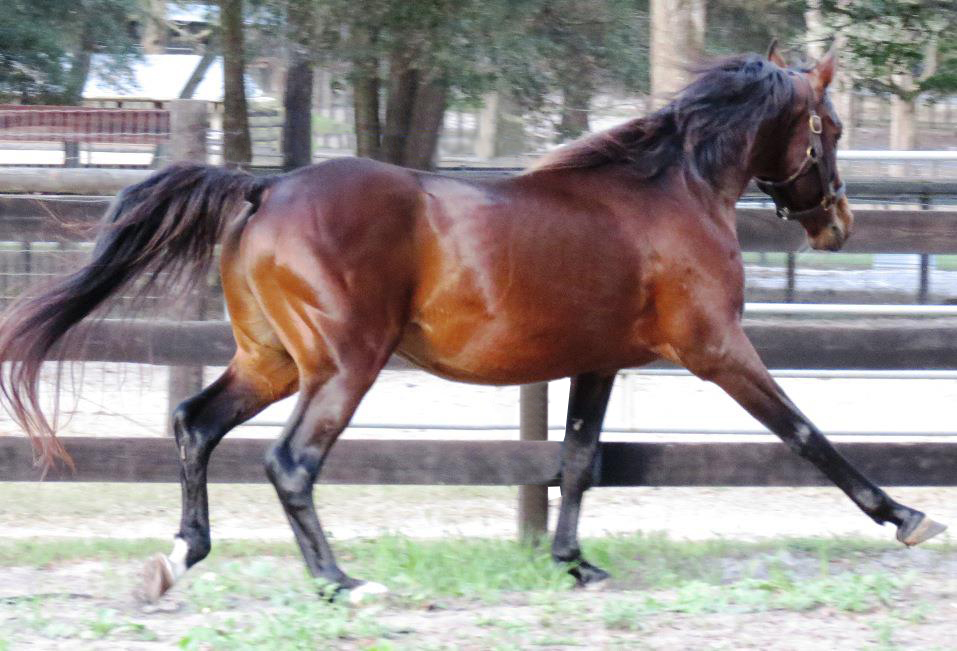 ---
Broodmares
SAND TIKI BELLE (Burning Sand x Quincy Ku by Ibn Kontiki)
Belle is a very solid and correctly built predominately CMK bred Arabian. She is a 15H chestnut with flaxen mane and a winning flat track race record.
CABIN FEVER (Virgule Al Maury x Im In Orbit by Wiking)
Cabin is a big solid 15.1H bay French Arabian with a winning flat track race record.
SARAHS SONG (Tyx x Latin Serenade by Palatinum)
Sarah is an amazing 14.3H bay Arabian FEI endurance mare with a sub 10 hour 100 miler among her records. She qualified and participated in the World Equestrian Games in Malaysia.

ALL VIRTUE (Virgule Al Maury x Edukacja)
Virtue is a beautiful well built flat track race winning mare with a tremendous record. She is 15H.
SELMA CROIXNOIRE (Ala Croixnoire x Patina Dalene)
Selma is another well built solid very dark bay. Her offspring includes French Open the 2014 Tevis Cup winner!!
T M SOLD OUT (Burning Sand x Selma Croixnoire)
"Indigo" is a well built dark bay just like her dam Selma. She currently is our riding horse. She will eventually join the broodmare herd. Here is a photo of her with her dam Selma….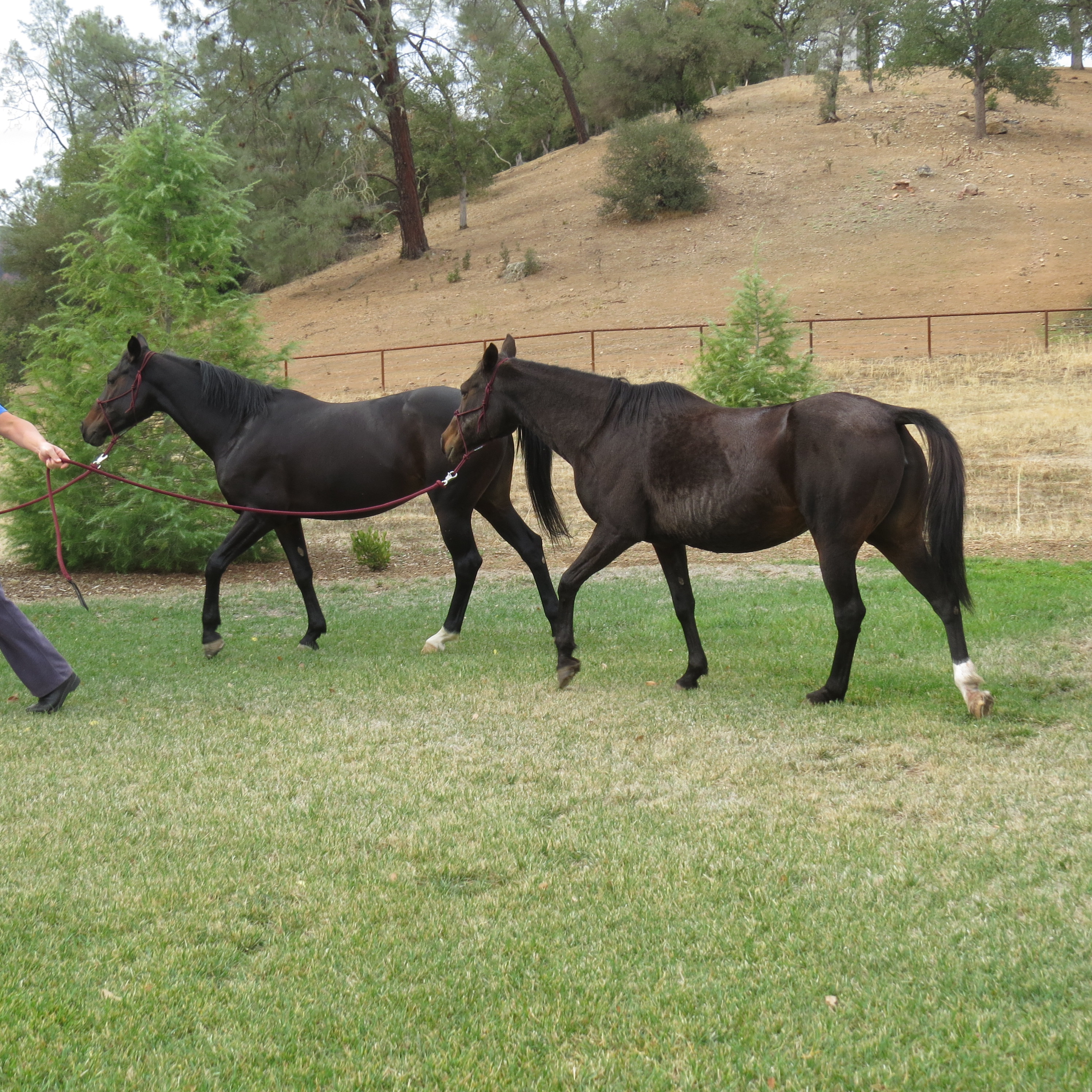 BELLEOFTHEBALL SA (No Limite x Bellestarr CA)
Bally is a very big dark grey mare standing about 15.2 H. She is very powerful.
HOT TO WIN (All Virtue x Mucho Caliente)
Hottie is a beautiful elegant racy looking bay mare. She stands about 15.1H. She has a lot of go, yet is very kind.
SAMBORS LEGACY MAF (Falina Des Fabries x Sambrena)
Leggs is a 14.3H chestnut mare with an outstanding length of hip.
GABRET (Bengali d'Albret x Galaactic)
Gabret is a beautiful 15+H chestnut mare with incredible race wins including Stakes wins. We are thankful that we were able to lease her and the following three mares. They are outstanding additions to our mare herd!
MERZEDES (By Golly x Ms Benz) (Full sister to Sudden Mischief).
Mercedes is a very stocky, 14.3-15H well built mare that loves to run and frloic. She has a good race record and sports a wide blaze and 4 white socks on a bay body.
SOUL MATE (Wiking x CR Gal Friendly)
Soul Mate is a flashy red bay, 14.3H with three white socks and an elegant way of moving. She loves to run fast in the pastures with Mercedes and Gabret. She has a good solid track race record.
CAARABINE CS (Aneto x Caapela x Elaborat) Solidly built heavy boned flea bitten grey mare. Dam of Darley Champion race mare Abra Cadaabra.
TA DANCING QUEEN (Line Dancer x Kaberet CS)
Queenie is a stocky 15H grey mare. She has an amazing personality. Queenie is my personal riding horse. She will join the broodmare band at some point in between our riding endeavors.
TA REENOIRE DANCER (Line Dancer x Reenoire)
Reenoire is a young flashy tall chestnut with a blaze and two rear socks. She loves to frolic with Kabelina. She is very well built.
RUSHCREEK PATTI (Rushcreek Kip x Rushcreek Alibi by Rushcreek Quincy)
Patti is a solid 15.1H kind excellent producing grey Arabian.
RUSHCREEK TIKI (Comar Raphael x Rushcreek Joni by SAHR Magnafy)
Tiki is a very correct large bodied substantial 15.1H grey Arabian.
RUSHCREEK TIGGER (Comar Raphael x Rushcreek Kitti by SAHR Magnafy)
Tigger is a well put together 14.3H grey Arabian mare that is sturdy and beautiful.
RUSHCREEK REATA (Comar Raphael x Rushcreek Gwen by SHR Magnafy)
Reata is a 14.3H well proportioned grey Arabian with chestnut speckles.
Reata and her newborn Doran SBFAR colt, spring 2014….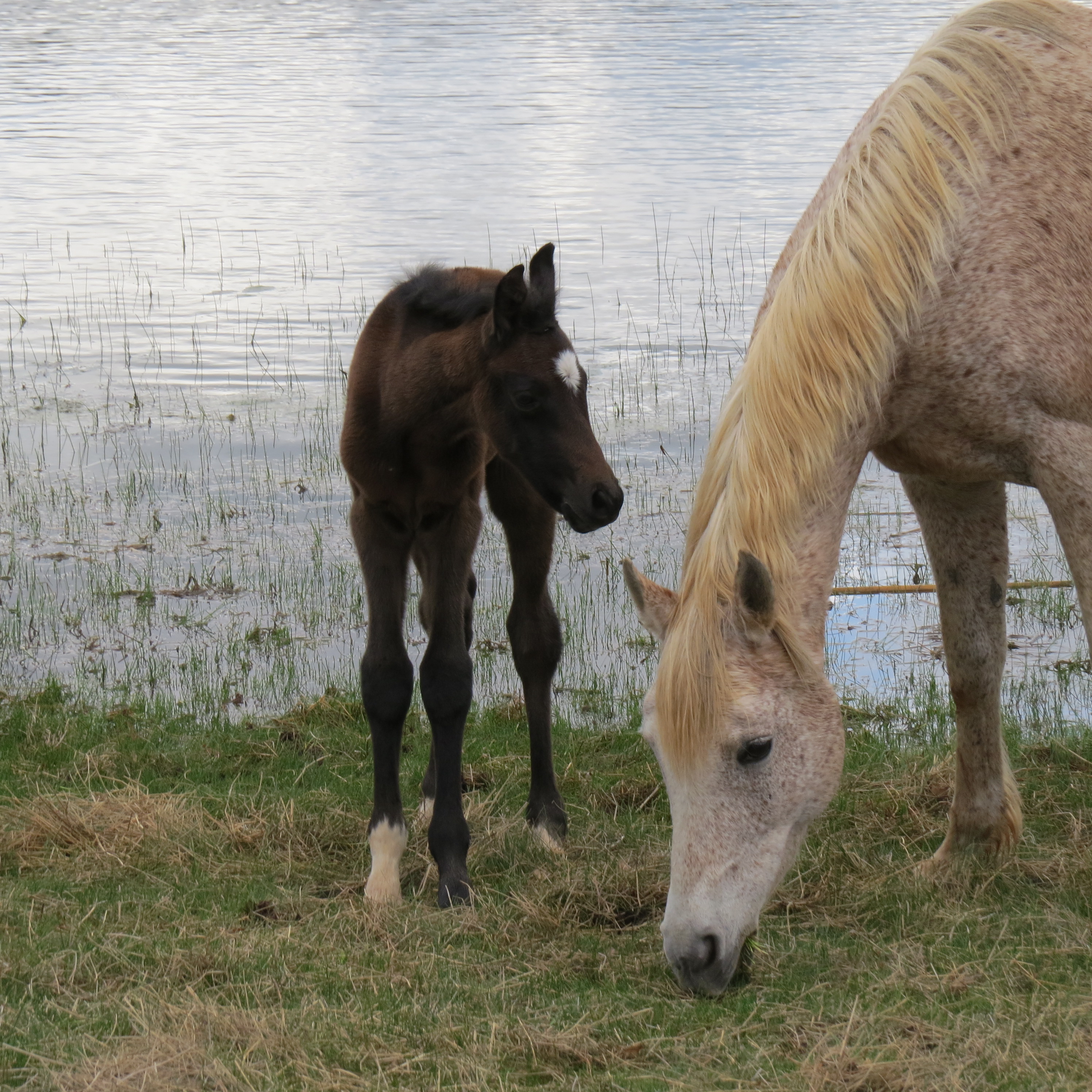 RUSHCREEK PECAN (Rushcreek Kip x Rushcreek Freon by Shalimar Rhett)
Pecan is a 15.3H leggy bay Arabian that we call a "Desert Ship" as she is an effortless mover.
AZS CALL ME MADAM (Purple Sage x Jons Stardust by The Night Dragon)
Maddy is a CMK bred leggy, fast 15.1H grey Arabian built to run.
Maddy and her Doran SBFAR filly, summer 2014…...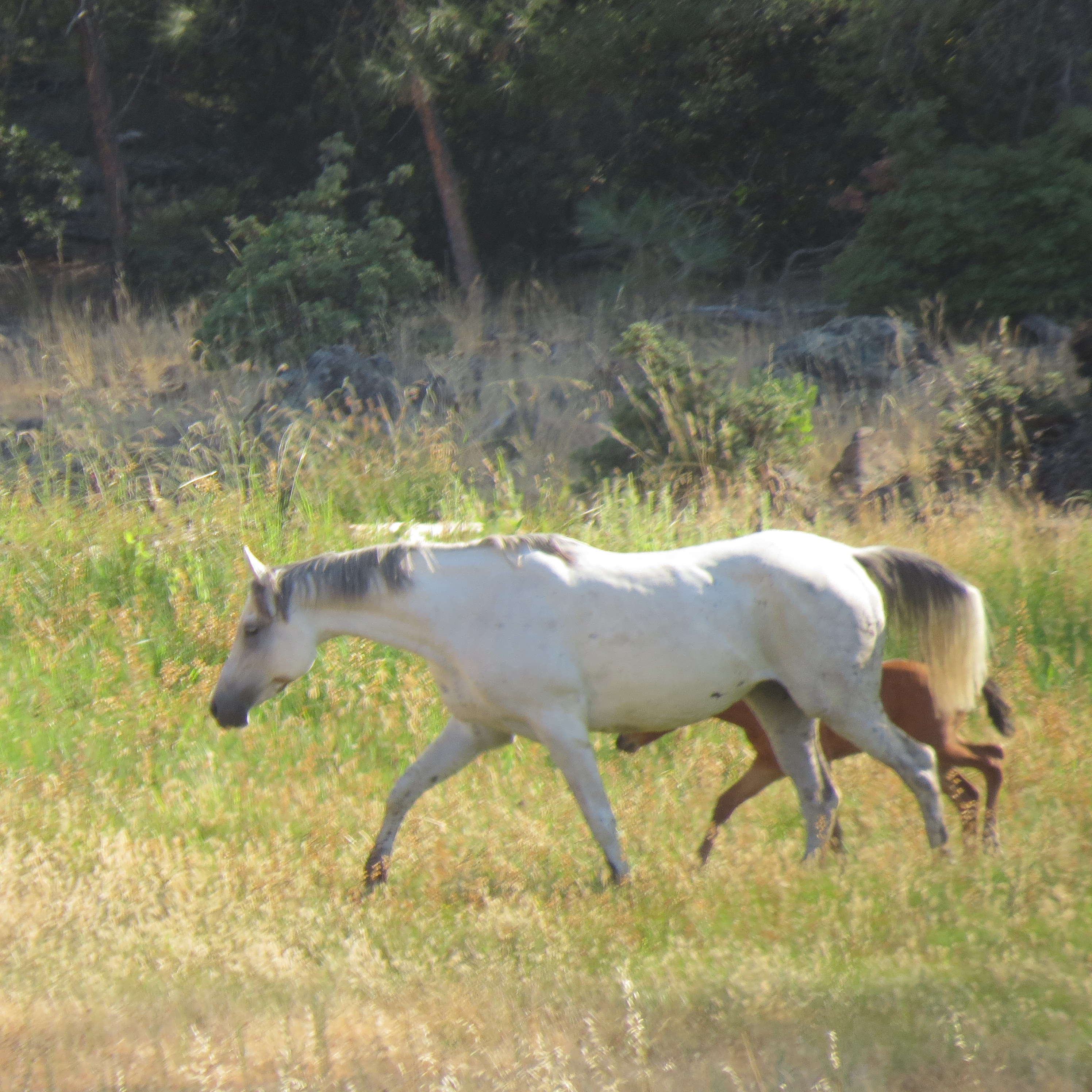 Young Horses FOR SALE
Young horse prices start at $5,000.00. These foals are out of Internationally known Doran SBFAR. They are flat track racing and FEI endurance prospects. We have a few 2014 and 2015 foals available.
---
Horses for Sale
Contact us directly if you are seriously looking for a good athletic horse: lettie@flyinghorsewines.com
We have over 20 youngsters for sale that are sired by Doran SBFAR.
TA KABELINA (Line Dancer x Kaberet CS)
Kabelina is a young tall leggy chestnut that loves to run and is exceptionally friendly. Exceptional endurance prospect.$7,000.00
We currently have several horses coming up for sale. A couple of geldings, broodmares, and also several younger horses. We shall post photos and descriptions of them once the weather is good for photos.